Chart your Agile Pathway
Put the Agile Fluency® Model into practice
Diana Larsen and James Shore co-founded the Agile Fluency Project with the goal that every team should work at the level of fluency that best fits their business' needs. We provide training and resources for coaches, consultants, and change agents. Contact us to level up your change coaching skills.
Designed by Leading Agile Practitioners
The Agile Fluency Model describes an agile team's pathway. You can use the model to chart a course for the team, create alignment with management, and secure organizational support for improvement.
James and Diana refined the Model through collaboration with agile practitioners and advice from other leading thinkers in the agile community. Martin Fowler published their original article.
Learn About the Model
Read the white paper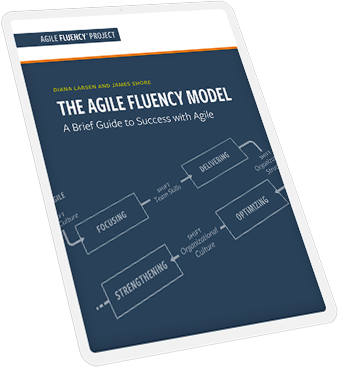 Connect to Stay Informed
Request access to the Agile Fluency Project's online forum and join the conversation. Subscribe to news about upcoming workshops, webinars, and more.
License the Diagnostic
Discover your teams' positions and opportunities with the Agile Fluency Diagnostic as part of the internationally-recognized Agile Fluency Suite.